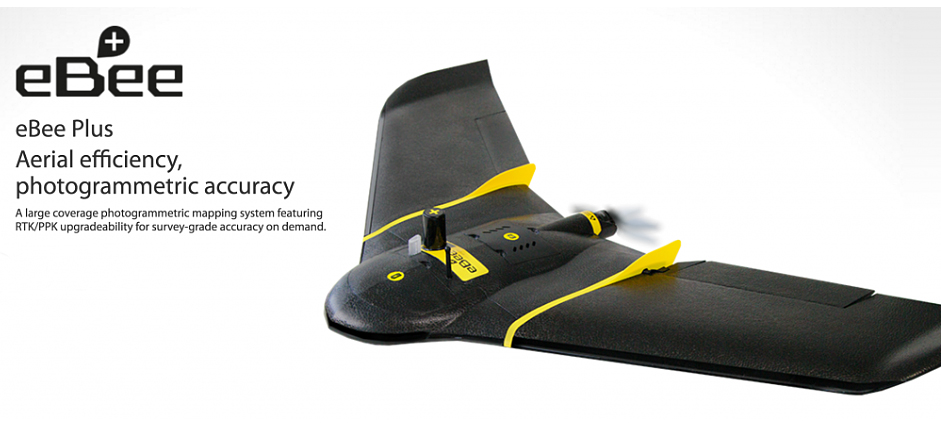 Exciting Videos about Sensefly ebee!
EASY TO USE
senseFly drones are the most easy-to-use drones on the market, thanks to senseFly's proprietary control & monitoring software eMotion 2.
A COMPLETE SOLUTION
Our drones are turn-key solutions and include all the accessories required for operation. On receipt of your drone you can download the latest version of our control and monitoring software eMotion 2 and image processing software Postflight Terra LT (swinglet CAM) / Postflight Terra 3D-EB (eBee) at no extra cost.
INHERENTLY SAFER
senseFly's drones are the lightest mapping drones on the market with a take-off weight of only 0.5kg for the swinglet CAM and less than 0.7kg for the eBee. Their flexible foam airframe and rear-mounted propeller are designed to ensure the safety of both the drone and the people on the ground.
OPERATIONAL IN SECONDS & COMPLETELY AUTONOMOUS
All our drones are out of the box and ready to fly in seconds. They are completely autonomous and can be operated by a single person.
HIGH ENDURANCE
Our drones can fly between 30 and 45 minutes on a single battery, depending on the model.
EASY TO TRANSPORT
All our drones, including all necessary accessories, fit in a single, carry-on-sized case.
WIND RESISTANT
Despite their low weight, our drones are capable of flying in windy conditions; up to 25km/h for the swinglet CAM and up to 45km/h for the eBee.
HARD TO BREAK
Stress tests on our drones demonstrate that the foam airframe is able to absorb significant impacts without damage.
AFFORDABLE
All of our drones are designed for low maintenance, allowing low overall costs and quick return on investment.